Spirit Week
This week is Spirit Week at SHS.  We have lots of fun events and dress up days.  The homecoming football game and dance will take place on Friday evening.  The annual bonfire is scheduled for Thursday evening but keep an eye on the weather.  We may be impacted by the storm hitting the Gulf Coast early this week.  Here is a link to the full week of events.  
Check out our textiles class getting ready for Spirit Week!

Seniors painting their parking spots!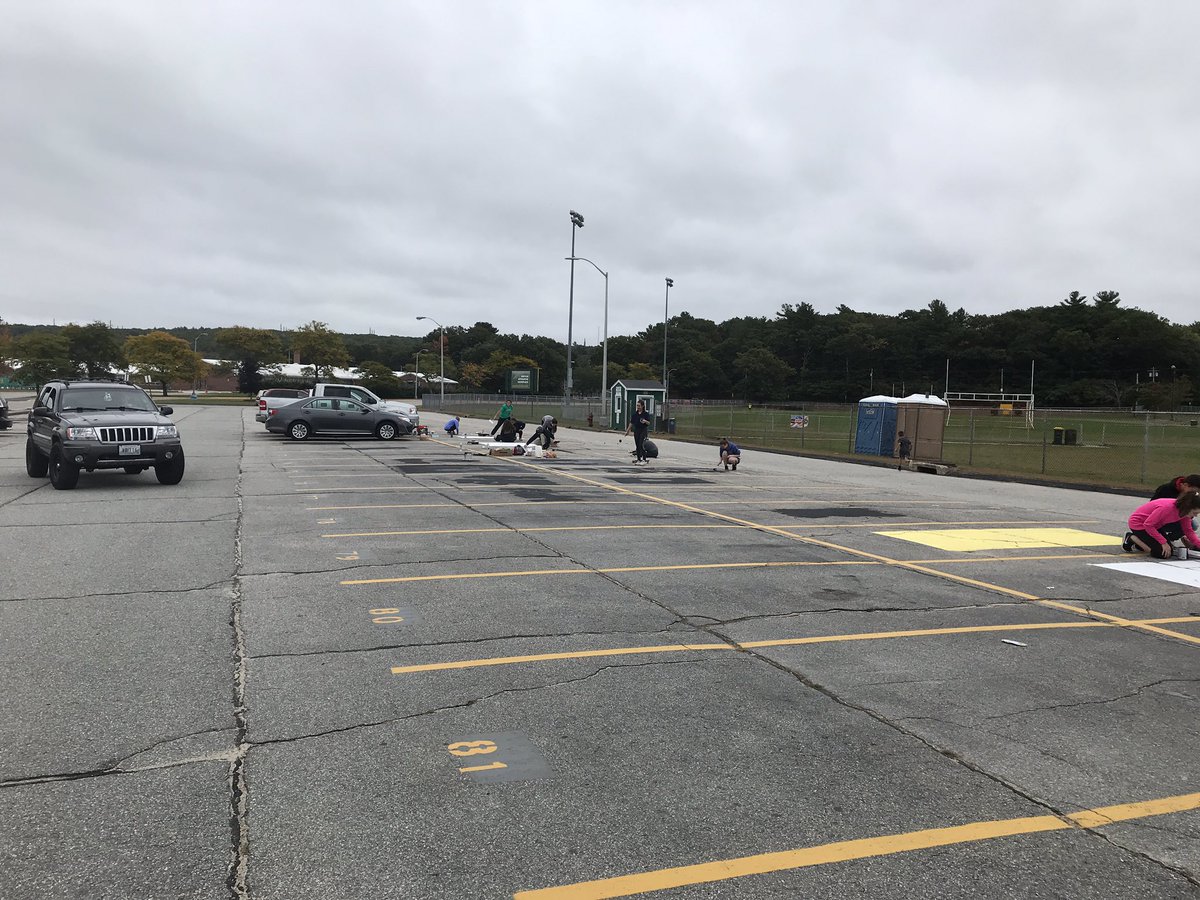 Commissioner of Education Visits SHS This Week!
SHS had some special guests this past Wednesday.  Mary Ann Snyder and Commissioner Wagner from the RI Department of Education spent the afternoon visiting with administrators, staff, and students.  We visited a number of classrooms and the Commissioner addressed the faculty.  Extremely proud of Dom Vivari for presenting a summary of his summer internship to our guests.

School Bond Forums
Did you know? If the state school construction bond passes, the state will pay its share of a portion of Smithfield's school construction costs so that we will NOT need to borrow all 45 million – only our share. This will be a game changer.  Please check out one of the upcoming bond forums to learn more!
SHS Spanish Classes Using Green Screen Technology
Ms. Calise's Spanish classes utilized green screens to simulate the fall of Roman rule in Spain.  Check out a video of the action here. 
SHS Soccer Honors Doreen Nicholson
Extremely proud of the SHS Girl's Soccer Team for honoring Mrs. Nicholson at last Saturday's home game.  Mrs. Nicholson was a great supporter of Smithfield Public Schools and the Smithfield athletics.  She will be missed!
SHS Looking For Parent Volunteers
SHS is looking for parents to serve on two committees
School Improvement Team
Class Rank & Course Weight Committee
Parent Council Still Looking For Members
Upcoming SHS Parent Council  Meetings
"Substance 101"
John Tassoni, The substance use and Mental Health Leadership Council of RI (SUMHLC),
Director of Operations and Government Operations
Kris Bennett, MiM-Smithfield Municipal Prevention Coalition Coordinator
~ Wednesday, October 10th at 7:00 in the SHS Media Center ~
"Managing stress for adolescents" 
Ashlee Barton, School Psychologist and Lora DiMuccio, School Counselor
~ Wednesday, November 14th at 7:00 in the SHS Media Center ~
"Social Media"
Dan Kelley and SHS Administration
~ Wednesday, December 12th at 7:00 in the SHS Media Center ~
Girl's & Boy's Basketball Mattress Fundraiser
On Sunday, November 4, 2018, Smithfield High School Girls Basketball & Boys Basketball are pleased to host, once again, a one of a kind fundraising event.  If you are looking for a new mattress this is the event for you.  More info may be found here. 
It Is Time To Purchase Yearbooks!
Yearbook ordering link: http://jostensyearbooks.com?ref=A07500270
Ad ordering link: http://jostensadservice.com?REF=A07500270
When Kids Don't Play Nice
Families and educators are invited to a presentation from Jeanine Fitzgerald titled When Kids Don't Play Nice on Wednesday, October 24 from 6-8 pm in the SHS auditorium.  Parents and professionals share a common concern with the social isolation, rejection and humiliation some children experience every day. Playing nice requires the personal intelligences that can be developed through specific, field-tested methods. Come learn from a national presenter that is both engaging and informative.   More information may be found here.
SHS Swim Team Looking For New Members
SHS Swim Team is looking for students interested in swimming this winter.  Check out the flyer for more information.  
This Week At #SHSLegacy
Check out the latest news from our schoolwide hashtag #SHSLegacy
Interesting Things I Read This Week…
HAVE AN AWESOME WEEK!
Be GREAT!